Fancy Donating To Our Podcast?
If anyone runs a company that sells PC's and you want to sponsor the podcast then Danny could do with a new PC as his is a 5 year old i5 and its seen better days, we get maybe 4 or 5 emails a month asking if we want to be sponsored but its always from betting companies and betting companies are usually cunts who prey on people who are addicted to gambling and I find that morally wrong so they can all fuck off.
PRIZES
We have no idea what to give away
A week's holiday in Gimlis castle?
A night of passion with John & his crabs?
Live in Dannys shed for a month?
Karl could use his posh train announcer voice and talk a bit sexy?
Shave Kris's head and keep the hair to stuff a voo-doo doll of kris?
Adopt Josh as he hasnt seen daylight since 1962?
Sit on Goonerholics knee and he will read one of his blogs to you?
Spend the day as one of Geoff Arsenals dogs?
A night out on the town with Jason (this will end up with Jason giving you a big Welsh man hug)?
Ellis could plaster cast any of your limbs to get a few weeks off of work?
Fyffe could let you see his dungeon which is full of gold bars?
Rev Raj could remove all your sins you have accumulated so far in life?
———————————————————————————————
Last year we spent £630 of your money on
£150 Finally a laptop to dual record & backup of shows (blame skype)
£155 Web site hosting, domain renewal & Soundcloud
£50 A Tablet to use as a back up for Gimli's laptop which was away being fixed
£20 Gimli had a new headset
£20 Kate had a new headset
£50 John had a HD web cam
£25 Shredder had a new headset
£20 Kris had a new headset
£50 Kris had a new HD web cam (he didnt need it but the price dropped by £30)
£10 Kris had a new web cam
£20 to charity
£20 postage of stuff
£20 a special site for some of ABW
£20 Jason had a new headset
—————————————————————————
This is how you can send us money so that it does not cost us money
1 – Log into your PayPal account
2 – Follow these instructions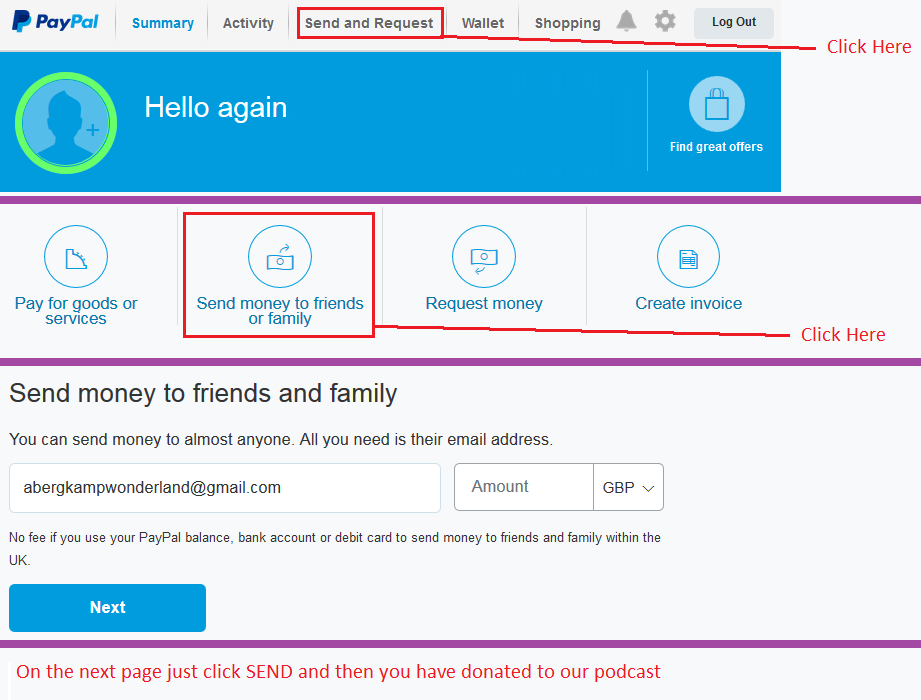 3 – Send money to abergkampwonderland@gmail.com
Things we need to raise money for are web site hosting, domain name costs, new equipment like headsets or HD web cameras to do the ABW Radio shows with and the occasional After Dark show (as there are 18 of us this has been adding up).