Fancy Donating To Our Podcast?
If anyone runs a company that sells PC's then Danny could do with a new PC as his is a 4 year old i5 and its seen better days (don't need a monitor though).
PRIZES
Will Stafford won all of these Arsenal things this time last year then we found out that he was in America and that postage was going to be around £50 so he said keep them and use them again this year.
So we have learnt that we cant afford to post this lot to people outside of the UK so the winner can either pay for the postage or pick the light things and then pay for them or just not want them and we can give them to someone in the UK.
The winner will get ALL of these wonderful things in one big box
Sol Campbell Autobiography (Signed by Sol) – From Andrew
Tony Adams Autobiography – From Kris
2000/02 Arsenal Home Shirt (L) – From Jason Davies
1994/95 Arsenal Away Socks (Blue Ones) – From Danny
3 Old Arsenal Program's (1990's) – From Danny
A Red Junior Gunners Hat – From Danny
A White Arsenal Baseball Cap (If i can find it) – From Danny
'Wenger – The Making Of A Legend' Hardback Book + Arsene Wengers Signature on a card – From Rich Agostini @Rich_Ago
There is more stuff as Aaqib sent us 3 books and Danny has more stuff too and we were sent some Italian footy stuff too.
You MUST be an Arsenal fan and be able to prove it to win any of the prizes (we will have a peek at your twitter to make sure you are a Gooner)
———————————————————————————————
A big thanks to these wonderful 23 Gooners for your donations (Done in the order that they were sent), so far we have £730.30
Matthew @mattc205
Jimmy @JimmySlate_
@goonerkanth
Ryan @RyanRundle1
Greg
@pixelrapture
Simon @highbury27
Remy @RemyFortunato
Shona @shona_black
Todd
@vanhelsiingh
Ken @KenHendrickson
Mark @MarkColleary
Peter @KennellyPeter
@lossless
Alan @alwayne75
Ryan @RyanBridgeman
Jacques @tijacquot
Akshay @aabaliga
Luke @lukefiske
Rhodri @Awkins72
Blair @arsenalgun1521
Cory @cory_austen
—————————————————————————
This is how you can send us money so that it does not cost us money
1 – Log into your PayPal account
2 – Follow these instructions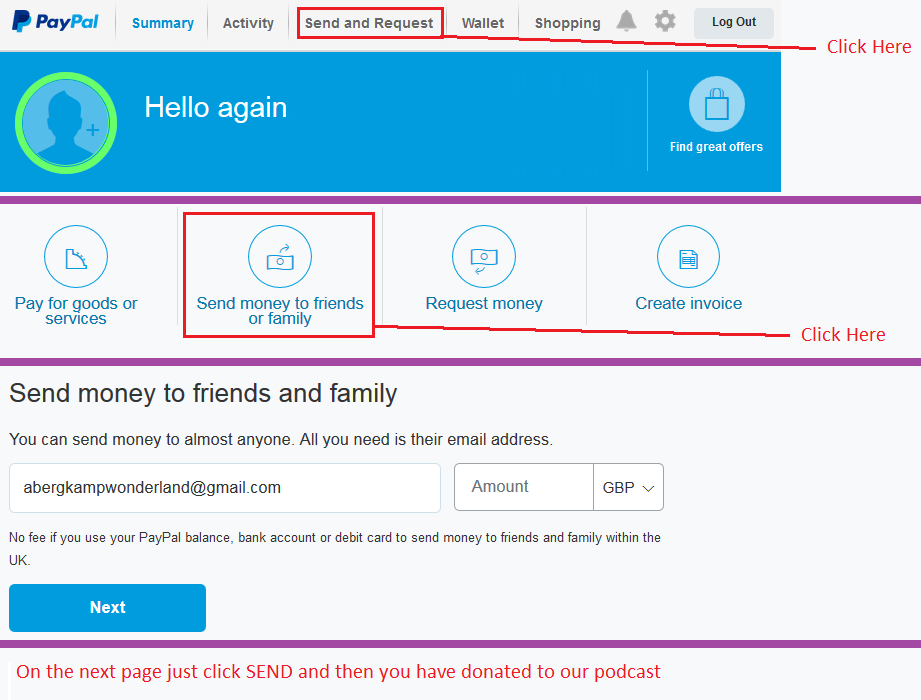 3 – Send money to abergkampwonderland@gmail.com
Things we need to raise money for are web site hosting, domain name costs, new equipment like headsets or HD web cameras to do the ABW Radio shows with and the occasional After Dark show (as there are 20 of us this has been adding up). If we get enough then Danny might buy a cheap laptop to do the back up recordings on and store a back up of all the podcasts stuff like old shows, edited shows, bloopers and other such stuff so it can never get lost.