Arsenal in the transfer window has been a recurring theme – we wait, hope and pray and inevitably watch the window slam shut on deadline day needing 2 more players. It seems that Groundhog Day this year has been cancelled, though. The imminent signings of Shkodran Mustafi from Valencia and Lucas Pérez from Deportivo bring a much needed injection of hope and options.
At the end of last season it was clear the spine of our team was far too vulnerable – now we can have a legitimate and realistic hope that we have a wealth of options in every area. The jury is out on Lucas Pérez but Mustafi is a World Cup winner, has been in La Liga team of the season and you better believe if Wenger spends £35m on a centre back they have to be pretty good.
But what did this mean for the direction of the team? There's plenty to speculate about:
A return to the diamond?
Last season Wenger experimented with 4-2-3-1 hybrid shapes, combining it with the diamond and a typical 4-4-2 shape.
It's feasible we could return to this, Lucas Pérez is a quick/mobile forward, he plays to a high tempo, likes to sit on the shoulder of the last defender, presses teams relentlessly and has an aptitude to create as well as score (shown by the fact he created 72 chances and made 64 key passes in 36 games last season), the type of player that Alexis has thrived with in the past if his partnerships with Eduardo Vargas and Theo Walcott are anything to go by.
Alexis and Lucas could play as strikers in a diamond as they have the engine and mobility to cover the flanks defensively. This system could have Alexis as a second striker, Özil as a #10, Ramsey as the 3rd centre midfielder sitting just ahead of 2 slightly more restricted centre midfielders, Xhaka as the deepest midfielder and would allow our wingbacks to get high up the pitch which would all seemingly suit us down to the ground.
Mustafi is an aggressive CB always on the front foot. Whilst his height of 6″0 is hardly towering for a centre back he has a massive leap and won more aerial duels than any other player in the last 2 La Liga seasons – this would allow Mustafi to step up to cut out the first balls and Koscielny to cover the space behind him. In theory it could be a similar partnership to the Mustafi – Otamendi partnership that got Valencia 4th place and a finish just 1 point behind Atletico Madrid in the 2014/2015 season.
Granit Xhaka – New Vieira? New Petit? Or a legend of his own making?
Granit Xhaka is still young with a lot to learn, he's hot headed and at times very reckless but he has all the attributes of the modern top level central midfielder.
Xhaka is calm in possession, his first touch is good and intelligent enough that he consistently beats the first man even though he lacks the acceleration most would need to get away from players. He inspires movement throughout the squad too, Saturday was only his second competitive start and every time he gets the ball you can see players getting higher up the pitch, making real effort to get into positions to receive the ball from him.
You can tell when comparing our average positions vs Liverpool, Leicester and Watford that we've progressively stretched the pitch more with every game. (Credit to @11tegen11 and Opta for the following pictures).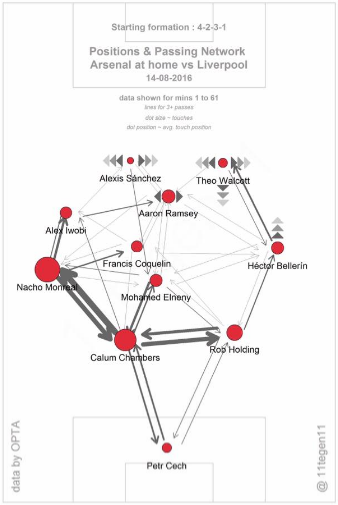 Against Liverpool there was no player to receive the ball from the centre backs so it got overly circulated through the back four and took away from any real possible penetration we could hope to achieve.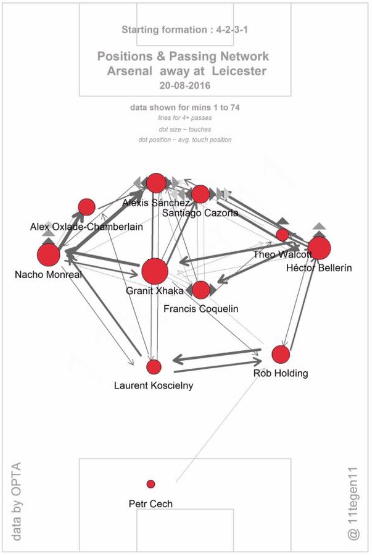 Against Leicester with the inclusion of Xhaka we saw a difference; players were able to get higher up the pitch and the ball started circulating through higher area but we still lacked a player to get ahead of Xhaka and act as the link between the pivot and the offensive players.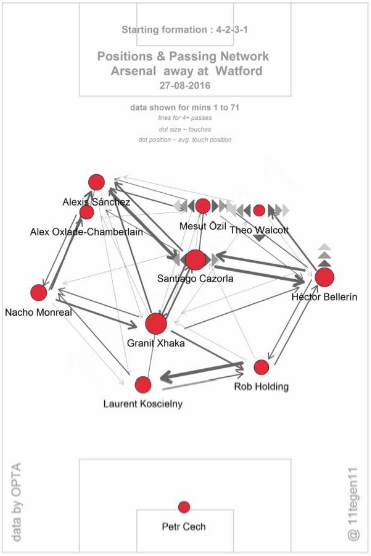 Against Watford with the inclusion of Özil was the best yet – we stretched every area of the pitch while directing most of our play up the left wing, forcing Watford to constantly shuffle over and leaving space on the right wing for Walcott to penetrate, much like the Invincibles used to do to afford space to Ljungberg.
The next stage in this progression would be evolving the left wing position to help establish more control in midfield. Chamberlain put in a decent performance there but he lacked the efficiency of the players around him. The pivot of Cazorla and Xhaka doesn't have a high amount of mobility and with Alexis pulling into the left wing and working in that space a lot it would be beneficial for the player who's in the left wing position to have the engine and tactical flexibility to sit narrower and become the third central midfielder to secure up that area of the pitch and give Cazorla/Xhaka less space to defend.
It really feels like we're getting a new identity as a team – we have great reason to be excited for the next game vs Southampton. In the coming months we need to give the team direction and clarity, we need to afford them flexibility to react and excel in different situations without putting players fitness levels into the red zone: keep their bodies fresh as well as their minds.
We finally have a team.
Luke (@LukeisPremium) is one of our newest bloggers and loves talking tactics – go give him a follow.
---
Check out our latest Podcast and Radio offerings below and don't forget to tune in August 31st for the Live Transfer Deadline Pod.