By 'ABW Guest Blogger' Les Crang (@plasticspam)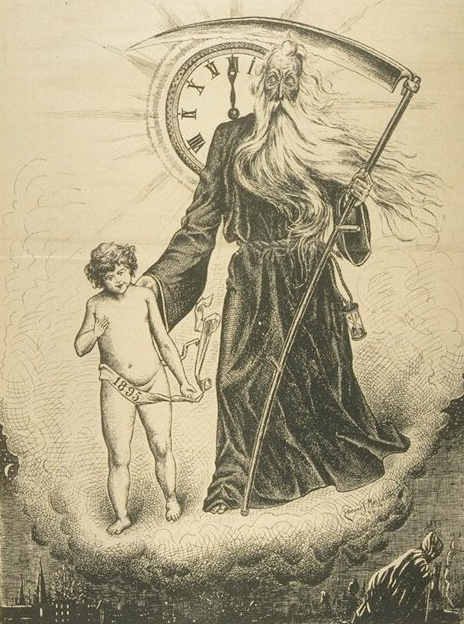 'Who controls the past controls the future; who controls the present controls the past.'   – George Orwell, 1984
I was recently asked to do a guest blog post for A Bergkamp Wonderland by Geoff Hollefreund and Danny. I usually write for Tim over on 7amkickoff and look predominantly at historic matches and players for the past. On agreeing, I brainstormed with Geoff and we decided I would try something different for this Bergkamp Wonderland post.
This post will therefore take a look at 'Can Arsenal have a future with its past?'. By this I mean, will fans be able to interact with the club in the future, either via tours of the stadium, by meeting players or will we just be consumers of what the club may decide to give us. So I asked myself this:
Are fans that interested in The Arsenal's past?
Do they care about meeting players (past or present)?
Do they want to interact with the club?
In fact do fans care about any of this?
To me it is a resounding yes. Why? Well, let's look at the evidence.
Are we interested in the past? Totally – just take last year (2014) as an example and the books released on and around The Arsenal (off the top of my head):
That's virtually one a month. Looking down that list, all of them had book signings and out of the nine, I attended six. All were great events, but the ones with far greater attendance were those with former players. For example, Dave Seager's  event for Geordie Armstrong on the Wing had Geordie's team mates [see below]:
Most fans not only flocked to get Dave's new book, but also to meet some Arsenal greats.
The same was true at the Paul Vaessen book launch at the Emirates, which was attended by not only the author and Paul Vaessen's mum, but also his ex team-mates again such as Steve Walford, Brian Talbot, Graham Rix and Paul Davis. Again, many fans had not only come for the book signing but also to meet the players (as a huge Paul Davis fan, this rates second to only one other Arsenal event):
I would think the idea of meeting an Arsenal legend is one of the motives for attending these events along with seeking out an autographed copy of the book.
As for interacting with the club and players, I believe the club have tried to some degree (often with a form of financial recompense). I recently spoke to the ever helpful and informative Andy Kelly and Mark Andrews, the Arsenal historians who have previously appeared on an early Bergkamp Wonderland Podcast (they really know everything about Arsenal).
What I wanted to know was when did the Arsenal Legends' Tours start at Highbury and then subsequently at the Emirates. For those that do not know, the Legends' Tour consists of a personal tour with ex-players such as Charlie George, Perry Groves, and Sammy Nelson (plus others). More information can be found here. I must say I went on one in 2005 with Charlie George and can't recommend it highly enough. As a small note Andy added this in an email to me:
"I forgot to tell you how I know they started during 2003-04. Towards the end of 2003 Arsenal were inundated with requests for stadium tours as fans knew that the move to the Emirates was on the horizon. They advertised for fans who were interested in conducting tours. I replied and got the gig. I didn't do too many but one of them I remember being late starting as we were waiting for Charlie George to finish his tour. This would have been early 2004."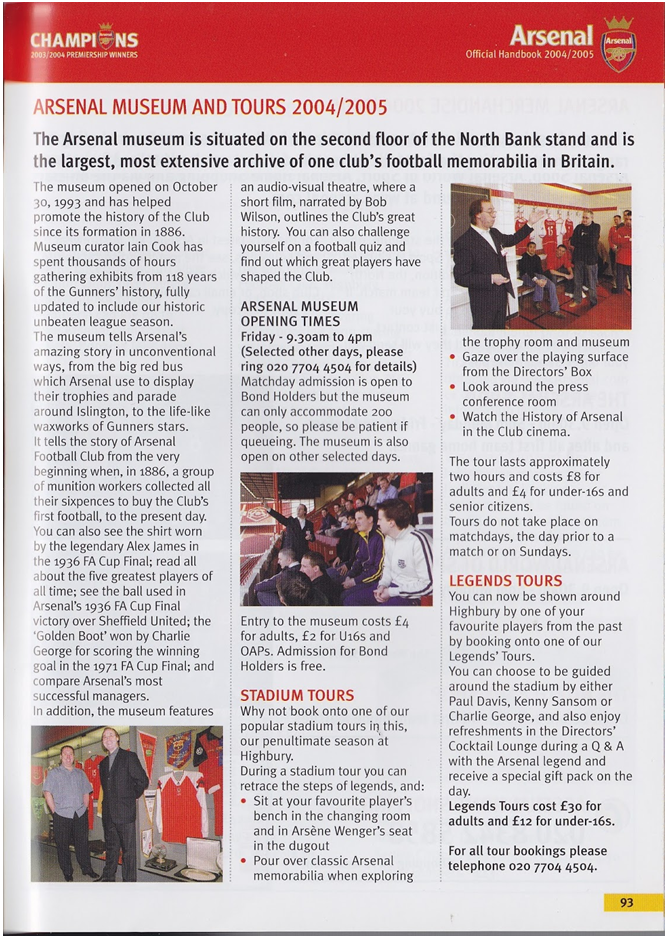 These tours have, surprisingly, only been going only since the 2003-4 season. Fans of the Arsenal were clearly asking for these tours. The reason -fans no longer have the opportunity to meet the current players, whilst the players from the past are willing to do the tours as they get some financial reward from it.
Let's not forget that players from the 1970-1 Double team had to find jobs after they retired from football: Peter Storey, Frank McLintock and Charlie George went into owning a pub; Bob Wilson went into the media; Jon Sammels became a driving instructor; and Geordie Armstrong went into coaching. These were jobs in which you could meet your legends 'on the street'.
This is not an uncommon event – Arsenal have always kept its legends close to the club. Arguably Arsenal's greatest goalkeeper Jack Kelsey from the 1950's and 1960's team, actually worked at the (very small) shop at Highbury until he retired in 1989 is one example.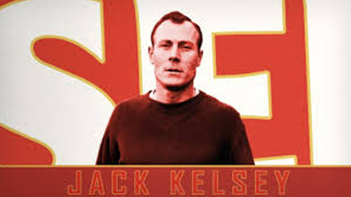 A more famous instance though has to be the great George Male (in many ways a precursor to the much lamented Geordie Armstrong if you read Dave Seager's excellent book). Some of you may know George Male, but for those of you who don't, George Male played under Herbert Chapman, playing in the five championship sides of the 1930's as a full-back.
By the end of the 1930s he was Arsenal and England captain on occasions. After returning from the war, Male would play in the championship side of 1947-8. He still holds the record of winning six titles at Arsenal. Overall, he played 318 games for Arsenal and 19 for England. After he retired he coached and mentored youngsters, working at the club up until 1975.
Read any biography of the 1970-1 side (and I virtually have), Male is always mentioned. When Ray Kennedy came down, George took him to his digs as he also did for Peter Storey. He discovered Charlie George playing as a youngster and brought him to Arsenal. Male's longevity at the club meant he was a well known face around Highbury. A living legend working at Arsenal shows the importance of what Arsenal represent. This is the embodiment of the famous line Herbert Chapman, Bertie Mee and George Graham would underline being at Arsenal:
 "Always remember who you are and who you represent."
If you want to feel the personal touch Arsenal have tried to engender in the club in the past, read Peter Storey's excellent biography True Storey. Here's an excerpt from when he met George on signing for Arsenal:
"George Male arrived in time for afternoon tea, took off his hat and coat, ruffled my hair on his way into our [parents] lounge and plonked himself down in an armchair.

I only really knew him as one of the club's scouts, but Dad regaled me with stories of his exploits as a Gunners legend of the 1930s and former club captain.

The grown-ups indulged in some general chit-chat before George turned to me and asked casually ; 'You would still like to join us at the Arsenal, wouldn't you Peter?'

I blushed, almost choked and spluttered out words to the effect: 'Of course,' and Mr.Male, as he always was to me, told us when we might all be expected at Highbury to complete formalities."
That kind of access to ex-players can create what the sales department call brand loyalty to both fans and players.
This kind of loyalty must have had some effect on the double team. Many have helped with some excellent books in the past for nothing. These books are David Tossell's Seventy-One Guns: The Year of the First Arsenal Double and the Bertie Mee biography, Dave Seager's Geordie Armstrong: On the Wing and James Durose-Rayner's I am Sam.  They all seem to do it because as Terry Neill said 'Arsenal is my second family.'
When I spoke to Dave about the book a few times, he said everyone from the Arsenal team Geordie played with and coached offered up there time for him. It's what Arsenal do (plus Geordie was very well liked).
But will this continue? The accessibility (at a price on the Legends' Tours) to the ex-players is available. But what of the future? That is my worry.
In Amy Lawrence's excellent, but sometimes questionable, book Invincible: Inside Arsenal's Unbeaten 2003-2004 Season (her lack of a mention of  Sylvain Wiltord winds me up), she said that nearly all the players were willing to help on the project – all except Ashley Cole sadly, who said:
"People asking why I'm not in the Invincibles book I thought it would be for the best. I didn't think fans would want it.

But I will never forget my times at Arsenal and the amazing achievements I accomplished there with great people."
But what I found much more interesting was when she was on the Tuesday Club Podcast to discuss the book – that nearly all the players were on board to the project. The most interesting thing she said though, was she couldn't say the same about today's players who are often harder to approach:
Or even Philippe Auclair discussed in his book Thierry Henry: Lonely at the Top when he said it was a struggle to contact Henry as he would regularly change his number or not answer calls. Auclair and Lawrence are two of the most erudite (Arsenal supporting) journalist around. What hope for us fans?
A more clear example of the modern player unwilling to interact with the club was the interview after the 5-0 win on Sky with Theo Walcott and Mesut Özil.
If you go to the 37 second mark, Theo asks Özil if he has anything to say. He says "no" and just stands there. I am in no way 'Özil bashing', but the only medium we have access to these players is via Television or the web, therefore it would be much more interesting to hear their thoughts on the game.
My concern with the club is that fans are stretched more and more financially for tickets, for Sky Sports [or Fox or whatever], and for merchandising but we seem to have less contact with the players. There are the tours obviously – but in twenty years time when the present 'legends' have retired, will Mikel Arteta need a second income as a legend on an Arsenal tour? I don't think so. I'm not berating a player getting well paid but it's a concern that we are one day going to have no contact with players except those rushed Youtube video's of the players leaving via the car park:
My worry is the players are disconnected from the club. Conjecture on my part? Certainly not. I found it interesting that the recent Invincible documentary when screened, had only one present player present in Alex Oxlade-Chamberlain. So said Alan Davies on his recent podcast. That is very sad indictment of a very important part of Arsenal history.
So what can the club do? Well, actually as it's Arsenal they do try and do a lot. I mean, we are easily in the top ten teams in the world (if we use Forbes as any indication), so worldwide support is huge. Therefore, the club tours of the USA last year and Asia the year before, showed the club would like our fans to get the opportunity to see them [at a price]. The club has also a very good website and twitter account for fans.
The recent ambassadorial role for Freddie Ljungberg, in which the club said:
"We are delighted that Freddie has agreed, in this ambassadorial role, to help us reach more of our passionate supporters around the globe. He is much loved by our fans and it's great to have him back."
For the ex-players the club has also created the 100 Club which will:
"Provide its members with an ongoing official forum to engage with Arsenal, and regular opportunities to attend matches at Emirates Stadium and official Club events [if you have played for 100 games for Arsenal]."
I thought that was a classy move by the club. Many ex-players have never returned to their clubs due to the expense [read The Lost Babes is an example of this. A club profiting off an unfortunate disaster].
But I still believe the club could do more. Losing contact with the fans would be a travesty – for them as much as us. We, the fans (be we in Bethnal Green or Beijing, Newcastle or New York) are the lifeblood of the club. It would be great if the club could provide a perhaps members day for free or say a £1.00 for fans? It would sell out.
Or perhaps a Skype Q & A with ex-players for the fans to interact with. It does not have to be major. If you provide fans with this we would most likely be the first in the Premiership to do it. So in many ways it makes financial sense to the club (in my opinion).
I understand Arsenal is a profit making company. I understand it has limited time for players to interact with the fans. But to us fans we would just like a little bit back from the club. You need us as much as we need you.
By 'ABW Guest Blogger' Les Crang (@plasticspam)
*Big thanks to Tim at 7amkickoff, All the ABW persons for letting me do a guest post, plus Dave Seager, Andy Kelly, Mark Andrews, Dan Betts, Peter Nelson, Tony Fisher and Gary Lawrence on advice on the post.
Les is an Arsenal book nut and an occasional writer for 7amkickoff.  Big thank you to him for putting this guest blog together for us here at ABW – go give him a follow and say "hello."  – OG