Aaron Ramsey saw a return to his favourite position versus Sunderland because of a long term injury to Santi Cazorla at the weekend. He showed glimpses of the real quality we all know he's capable of in that position but Wenger said after the game that the team lacked balance and he's right.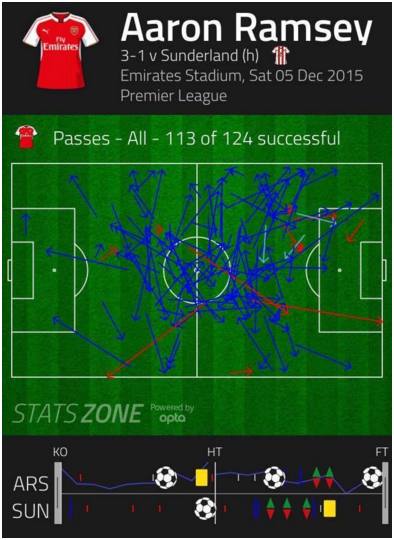 According to Opta, against Sunderland Ramsey completed more passes than any player on the pitch, with 113 of his 124 attempted passes being completed (as shown in above graphic) and 39 of those successful passes being in the attacking third. Ramsey also attempted more shots than any other player (7), created 4 chances (2nd only to Mesut Özil's 5 chances created) and made the most ball recoveries (14) along with getting a goal and an assist in a very impressive return back to central midfield.
Arsenal had found balance with a midfield pivot of Santi Cazorla and Francis Coquelin – with the former roaming around to play the first pass from the back, progress the play and looking to play passes into the final third whilst the latter would win the ball high up the pitch to aid quick ball retention and use an impressive first touch to control and palm the ball off using simple passes in tighter areas. This was also aided by Aaron Ramsey being on the right wing, who compensated for Coquelin's lack of playmaking ability.
Balance in the Midfield Pivot
The main problem now for Arsène Wenger is he needs to find balance in that pivot with Ramsey in it. In the 2013/14 season Ramsey found a fantastic understanding with Mikel Arteta but was largely let down by a lack of pragmatism in the big games and injuries which would derail what looked like a real title challenge up until January.
The reason Ramsey and Arteta worked well was because Ramsey could vacate the middle of the pitch and look to go into positions to receive the ball rather than play it in the knowledge that Arteta would dictate the game from the base of midfield. The difference with Coquelin/Flamini is that they aren't natural sitting defensive midfielders, neither have the composure on the ball to control games, neither will naturally drop in-between the centerbacks allowing them to split to accommodate the high wingbacks and neither can be left alone to build attacks. Both are midfield ball winners rather than sitting midfielders and are at their best when they have a playmaker permanently next to them, so they don't need to worry about playing the first pass from the back and can instead push higher up the pitch to win the ball.
Cazorla accommodates this brand of central midfielder because he will rarely leave those deeper positions, where he'll look to receive and recycle the ball in order to keep attacks moving and always be in positions to play balls into offensive areas and remain as a creator. Ramsey is very different, he drops deep to help build attacks but at points makes a change from just a creator to some who will look to receive the balls in attacking areas in a very Lampard-esque way, and because of this, whoever plays next to Ramsey needs to be able to handle recycling possession at the times Ramsey isn't there to do it for him.
The question this leaves is how do you balance a pivot with Ramsey and Flamini (Or hypothetically Coquelin when he returns)? What seems like it would be the simple answer is for Ramsey to be more disciplined in his movement and make significantly less runs into attacking areas, however this is unlikely as Wenger has said on multiple occasions he doesn't want to blunt Ramsey's attacking tools. Is it a case of Özil dropping deeper at times to recycle possession? Again possible but when you consider the improvements Özil has made in front of goal this season and the increasingly impressive performances he gives from a mostly free role it's not ideal that we'd curb his movement when it's been so successful. Another option is to partner Ramsey with Calum Chambers, which I'd be generous if I said it would only be risky, but Chambers has shown he has ability and vision on the ball from his Southampton and Arsenal showings over the last 2 seasons. In his cameo as a central midfielder versus Dinamo Zagreb his first touch was lacking but arguably that will improve if he's given minutes. The biggest question would be: does Chambers have enough personality on the ball to do this somewhat specialist job?
In an ideal world Arsenal would go into the transfer market to solve this problem, a player in the mould of William Carvalho or Granit Xhaka would work well with Ramsey and give us options to play two different types of defensive pivots (Cazorla and Coquelin or Ramsey and Carvalho/Xhaka) in the latter stages of the season.
The fear is that Arsène will pin his allegiance to his faith in the club's internal options to see us through this crucial period, something that will prove a high risk/high reward strategy similar to what saw the emergence of Coquelin last season, but with lacking options and news that Santi Cazorla has opted to go through surgery and will be out for 4 months we'll have to wait in hope that it will force Wenger into the transfer market in January to find at the very least a short term option to provide competition for Flamini and Chambers until Coquelin returns to match fitness.
Luke (@LukeisPremium) is one of our newest bloggers – go give him a follow.