Welcome to the test run for a new semi-regular Tuesday blog from #ABW Chief Blogger, the Other Geoff.  The concept is simple – OG will pick a few topics each week and give his thoughts followed by a verdict using the terms STICK or TWIST. Since this is just a test run, let us know if you like it and want to see more on our Twitter account for the Bergy Blogs (@TheBergyBlogs). You Know It! – Other Geoff
stick (stĭk): stand; hold the course. The state or condition of adhering.
twist (twist): hit; make a change. A variation in approach.
On Özil:
The Everton game this past weekend saw another two assist performance from our enigmatic German, Mesut Özil.  I always find the subject of Mesut an odd one because he polarizes fan opinion between outstanding and not quite good enough.
Özil's time in North London has hardly been consistent. From the highs of a last minute signing before the transfer window snapped shut in 2013, to the lows of a post-World Cup left wing cameo, he's been heralded as the second coming of #WelshJustice and accused of "nicking a living."
Since returning from his knee injury, his performances have been mainly quite good. He's scoring and assisting goals at a steady rate and he's probably only now, approaching match fitness. He's scored three and assisted four times in the eight games since his layoff (compared to the single goal and two assists he got in the ten games prior to injury) and he's been backing up those numbers with positive stats in the pass completion and distance covered columns as well.
But stats cloud what is invariably the simple truth of football – if you score more goals than your opposition, you win games.
Özil's mission is to create those key moments that lead to goals – that's his job. He's not out there to score goals (although it could be argued that is a secondary bonus), he's not out there to defend set-pieces, and he's certainly not out there due to some contractual obligation that says we have to play him – he's played every week to define winning moments. If he turns up and assists the winning goal every week – then I could care less what else he's doing on the pitch – and that's the point isn't it?
When it comes down to it, most supporters take issue with how he does his job, not with how effective he is at it. That's not to say that after the World Cup – for whatever reason – he wasn't a bit dire – he was. But at the moment, he appears to be heading in the right direction.
I half joked on Twitter over the weekend that Mesut Özil is Keyser Söze and after a bit of thought – I think the analogy fits. He is someone in the background, pulling the strings – manufacturing key moments; and his genius is only realized at the end – when your attention is drawn to it.
Verdict: STICK – If Özil continues playing the way he's playing at the moment, we'll end up higher than fourth.
On the Run In:
Let's face it – the next two weeks could have a significant impact on how this season's domestic campaign will be viewed for years to come. Away games against QPR, Manchester United in the FA Cup, and Monaco in the Champions League are only interrupted by a home League game against West Ham. With just 11 games to play in the League, we are indeed, entering squeaky bum time.
The good news is that we have most of our key players available to us (let's hope Coquelin can play with a mask) meaning we can field strong sides in all four of those games with a bit of rotation. These aren't fixtures I see us needing to prioritize as we have in years' past.
Additionally, the FA Cup realistically represents our best chance at Silverware as we're all but out of the League and scoring three at Monaco will be a massive task against a team that is never generous at conceding goals. I think we can get a result at Old Trafford depending on which Arsenal team shows up on the day. If we can do that, the confidence should be there to go to Wembley.
Looking above us in the League, Manchester City are there for the catching and that should be a massive target. It's hard to argue that finishing second this season would not represent some form of progress (when was the last time we finished runner-up). I realize we should be aiming higher but that spot is there for the taking given City's recent form and would be some sort of small consolation given the start to our campaign.
Verdict: TWIST – In a race, you never, ever look over your shoulder. It's time to put the pedal down, punch some throats, and get the job done in the League and FA Cup.
On Giroud:
Le Buteur de Charme – the Charm Striker. Another player that is equally revered and derided by our fanbase. Big Handsome as I call him, is not a World Class striker.
Now some of the more angry types amongst you will be quick to conclude that this section is just another bash piece for our number 12 – which is incorrect.
I'm a massive fan of Olivier Giroud. Yes he misses some gilt-edged chances – another two by my account on the weekend, but to focus on what he isn't doing, would be a massive disservice to the Frenchman.
I think to say he isn't a World Class striker is to really say that he isn't a natural finisher – and I think that's really the issue. He has to work at it and his career so far backs that up. After stints at Grenoble and Tours in the French lower divisions, Giroud had a breakthrough season at Montpellier where he helped them win the title before his transfer to Arsenal.
It was an unglamorous signing given the outgoing of a certain red hot Dutch Skunt. Another unknown quantity from the French League at what could eventually be viewed as a bargain at around the £10m marker.
What was overlooked at the time, and what can ultimately be to the benefit of Arsenal, is Giroud's ability to master the level he plays at through hard work and consistent improvement. Giroud makes up for his lack of natural abilities (he isn't the paciest and he's far from clinical) by what looks like a determination for mastery – which is often a byproduct in athletes who don't come by their talent naturally.
It's hard to say he hasn't improved since his move from France, with his only two dry periods (injury this season aside) coming off the back of a personal debacle in a hotel room and when we overplayed him towards the end of last season.
Giroud's defensive contributions are often overlooked as well – especially at set pieces where he can frequently be found heading a cross or corner to safety. He also provides an excellent outlet as his physical strength and hold up play have improved steadily over the past few seasons.
Giroud will likely never be that bitey, pacey, moody, striker that finishes 100% of the chances he gets – but as long as he keeps improving in the role he plays for Arsenal – we're in for good things.
Verdict: STICK – Stick with the big man – he's sure to continue to improve to Arsenal's benefit.
On the COC:
Much has been made over the past few weeks over who Arsenal fans would rather win the Capital One Cup and I for one, don't care. There is nothing in the supporter's manual that says I have to cheer for either of those two teams and while I'm glad Tottenham failed to win a trophy, it still meant that thundersack, John Terry had something to smile about.
If you can't completely ignore the whole unpleasant experience, the least you can do is take some joy in our nearest neighbours losing (we all knew the party toolkit would come back to haunt them – cringe). I figure we've got at least 24 more hours before the whole thing becomes totally stale so with that in mind, may I present our own ABW contribution, the Danny the GFP mask. Make sure you follow the instructions.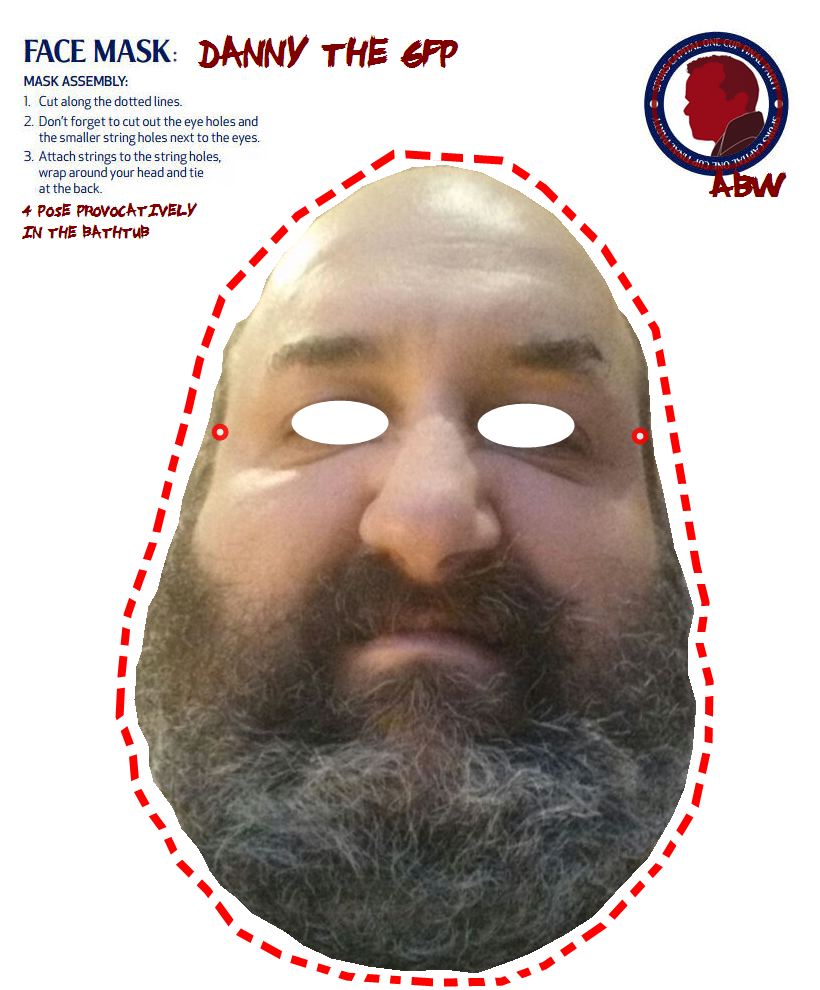 Verdict: TWIST – You've got 24 hours to use this – enjoy.
You know it!
The Other Geoff
Other Geoff is the '#ABW Chief Blogger' and can be found on Twitter here: @Hollefreund.