New ABW Blogger Luke (@LukeisPremium) gives us the breakdown on the emerging on field relationship between Theo and Alexis.
When Arsenal signed Alexis Sánchez in July 2014 it's fair to say a lot of people were excited, players and fans alike took to social media to express that. One of the most excited was Theo Walcott (looking pretty smug in the below picture with the Alexis printed shirt). Theo gave an interview to Arsenal player a few days after the signing saying this:
"Sánchez is a world-class player and I enjoyed watching him play for Barcelona and for Chile at the World Cup."
"He's still very young as well and he is going to show so much pace and power, which we lacked a bit last year."
"With me and him on the flanks, a lot of teams won't be looking forward to playing Arsenal this year."
Walcott even took to social media to voice his pleasure in the marquee signing,talking about his confidence the pair would become a lethal partnership, something that would've made most fans sceptical but now seems to be coming to fruition.
Walcott spent the majority of Alexis' debut season out with a knee injury he suffered in the 2-0 FA cup win against Spurs in the 2013/2014 season (that would result in the first of successive FA cup triumphs) and when he was fit he found it difficult to get in the team ahead of the inform pair of Olivier Giroud up front or Aaron Ramsey on the right flank.
It was only the last game of the season against West Brom that Walcott got his chance to start the game as a lone striker, a game in which he took his chance with both hands and scored a brilliant hattrick. It was this game, perhaps, that convinced Wenger to start Walcott in that position for the FA cup final against Aston Villa, something many Arsenal fans were hoping for.
This was the first game we could see the start of a relationship between the two. After Arsenal dominating the first half, and coming close of many occasions only to find it difficult to finish their chances in clinical fashion, (along with a few brilliant saves from Shay Given), with 35 minutes gone Alexis and Walcott switched positions and when the ball was sent into the box it was Alexis who rose highest to knock the ball down for an onrushing Walcott who lashed the ball in with his weak foot:
One of the biggest reasons for an understanding between the two is the fact both of them are at their most potent when the tempo is at its highest. You can tell it's in these moments that the pair are on the same wave length most. After a largely barren opening to the season for Arsenal in terms of goals with the infamous 'Own goal' and almost shunned Frenchman Flamini both making appearances as top goal scorers, Alexis and Theo are now seemingly coming to the boil. This season so far the pair have combined for 4 goals and performances have gotten better every week:
Theo Walcott goal – Alexis assist vs Dinamo Zagreb:

2-1 Theo Walcott (HD) | Dinamo Zagred Vs… by soccerhub365
Alexis goal – Walcott run creates space vs Leicester:
Theo Walcott goal – Alexis assist vs Olympiakos:

Theo Walcott Fantastic Goal Arsenal 1-1… by sporttvks
Alexis goal – Walcott assist vs Olympiakos:

2-2 Alexis Sanchez Great Equalizer Goal… by soccerhub365
A lot of these goals show that the pair is at their best when they play closely to each other, making runs/creating space for the other. It seems almost instinctual too and you can see that their movements around one another are anything but limited, they interchange and provide for each other with a very encouraging ease which creates the tempo that they both play so well at.
The most recent example came in the emphatic 3-0 victory over Manchester United at the Emirates. Once more Theo receives the ball and without even looking is able to find Alexis in a wealth of space, a move that results in the eventual match winner:

Alexis Sanchez Amazing Goal _ Arsenal vs… by edward-gashi
A special mention also goes to Mesut Özil. Against Leicester and against Manchester United on Sunday you could see that even though Arsenal were set up in the 4-2-3-1 formation that there were periods that Alexis and Walcott were positioned more like a front 2 than a lone striker and an wide forwar, and behind that front 2 was Özil orchestrating the final third, operating as a triangle.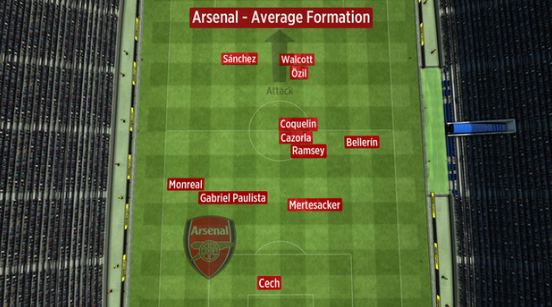 You can see from the above graphic that Alexis and Walcott played level with each other vs Manchester United with Özil just behind. Cazorla then dictates the deeper areas and receives the ball from the center backs as Coquelin pushes up to win the ball higher up the pitch, and Bellerín pushes up to create the width as Ramsey floats mostly central with Monreal being the more conservative of the two wingbacks.
This could lead you to believe of the birth of a new system for Arsenal, one that fluctuates between various movements in different phases of play, defending in two banks of 4 and attacking with a front 2 in periods of control and higher pressure. If so, this should see Alexis and Theo flourish further consistently playing closely with one another.
Luke (@LukeisPremium) is one of our newest bloggers – go give him a follow.